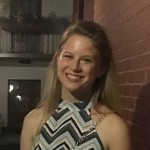 My name is Kate Moreau and I am a junior at Covenant College, where I am studying elementary education. I am originally from Wheaton, Illinois but have lived in the Chattanooga area since I started at Covenant a few years ago.
I came to Covenant with the intention of becoming a public elementary school teacher, but that all changed last summer. On a bit of a whim (I knew a little bit about special education from a class at Covenant, but that was really it), I applied for an internship at Jill's House, a Christian respite center for kids with exceptionalities near Washington, DC. After spending just about two months with the kids and getting to dip my toes in the world of special needs, I realized that world is where I want to be. I absolutely loved interacting with the kids, who ended up teaching me so much about myself and about what unconditional love really looks like. (And from that, what God's unconditional love looks like for us as sinful human beings.)
I had been interested in education law and policy for a little while after I got to Covenant, and after my time at Jill's House, I realized that I really wanted to specifically look into special education law and policy. Since coming back to Covenant this fall, I've been able to learn a lot more about the field and am so excited to be part of LifeLine and help carry out the mission of such a special organization!
I hope to be able to learn from LifeLine more of what everyday life is like for families with children with exceptionalities. I am excited to help with some backstage work on training, as the thought of professionals learning how to interact with kids with special needs from people who know exactly what they're talking about is so important. The ministry of LifeLine is so needed, and I am excited to be part of something that God is obviously doing great things through.
I will be graduating next May, and after that I hope to do a few years of co-teaching with someone who is certified in special education, then hopefully make it into a Georgia law school and go from there!
Welcome to LifeLine, Kate!  We are so glad to have you and look forward to seeing what God does in your life through your service alongside us to families affected by special needs!