CHURCH WIDE SPECIAL NEEDS MINISTRY
Facilitated Vision Casting
This session facilitates church leadership and/or interested congregants through a process of determining their goal and purpose for implementing a special needs ministry. During the workshop a vision and timeline for implementation of the special needs ministry is established. Discussion includes a budget, training schedule, and may also include a 1 year, 2 year, and 5 year plan. A follow up document summarizing the vision casting session will be provided. A suggested training schedule generally emerges from that discussion as we document needs, resources, and goals. Conversations will also determine how the church will make the logical progression of leadership development from theological base to practical application as part of an entire ministry development. Integration of special needs ministry with all aspects of broader church ministries is crucial and we will take a look at how intentional integration and collaboration can occur and how implementation of special needs ministry development can grow and benefit the entire church.
(approximately 4 hours)
Introduction to Special Needs Ministry
Attendees will understand what a ministry to those with special needs can look like and why ministry to this population is necessary, logical and Biblical. We'll take a look at how one church made it happen, and how you can too!
(1 hour)
Disability & Theology
How Does Having a Child with Special Needs Affect Your Faith? "Why did this have to happen to me? My family? My child?"
The first thing that we are tempted to do when we hear a diagnosis is to wonder "Why did God allow this to happen to me?" We ask "Where is God in all of this?" and "How can anything good possibly come from disability?" Join us to work through a Biblical view of disability and lay the foundation for processing our emotions in a healthy, practical and Biblical way. Our discussion will be based on the first couple of chapters of Same Lake Different Boat as well as experience of a parent who has walked through this journey for almost two decades. While this will be geared for families, it will also be helpful to church personnel serving families with special needs.
(2 hours)
Adult & Senior Ministry
This workshop will share practical ideas for supporting the adult and senior members of a congregation with age acquired disabilities. It will also give ideas for opportunities for service.
(1 hour)
Walking Alongside Families with Special Needs – What the Gospels Tell the Church
This is an introductory presentation for church ministry leaders. Looking at the Gospels we can see the example of Christ's interactions with those with special needs. Based on his example, we can determine what our response should be as we interact with those with disabilities. What does coming alongside a family with special needs looks like? 10 steps to successfully walking alongside families with special needs. (1 – 1/2 hours)
Where Do We Find Families? 25 Proven Community Outreach Ideas
"But our church doesn't have families with special needs. Where and how do we find them?" Families affected by disability are all around us and the ways to find them, minister to them, and bring them into the church are extensive and varied. Building a ministry from four families to several hundred, LifeLine employed several different methods and models throughout the last 20 years to reach into their community In this session, Lisa Mattheiss will walk through 25 different ways (and several variations of those ways) they have used during their involvement in community outreach. A myriad of ideas will be offered for one on one, small group, or large group options. They will also include ideas for single leader or single church opportunities and community wide collaborative activities and events. Various budget options will be shared as well. Ideas for targeting different age groups, diagnosis groups, or geographic areas will be part of the conversation. While not every idea will work for every church or ministry, everyone will be able to find some ideas that could work for their situation. Lisa will illustrate the workshop with many personal stories of proven community outreach ideas from her nonprofit and church staff experiences. (1 hour – 1 1/2 hours)
Too Tired to Care: Preventing Exhaustion & Burnout
Special needs ministry is exhausting. Caregiving is exhausting. Most special needs ministry personnel are caregiving on both personal and professional and/or ministry levels. How do you care for yourself in the midst of caring for others? Is it possible to balance care for self and others without completely leaving ministry? Where and how do you draw boundaries? insights will be offered by Lisa Mattheiss into the potential hazards of disability ministry and the difference between burnout and compassion fatigue, and how they both connect. Lisa will reflect on her own personal experience with exhaustion and burnout as a caregiver involved in ministry leadership for almost 30 years and then close with practical tips for building resiliency from the book Resilient Ministry by Bob Burns, Donald C. Guthrie, and Tasha D. Chapman. (1 – 1 1/2 hours)
Biblical Advocacy
(2 hours)
Inclusion Co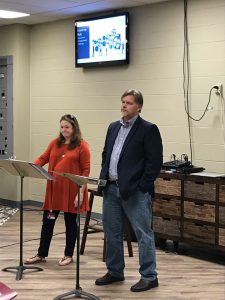 nfusion: Facilitating Communication Between Pastors and Special Needs Ministry Leadership
One of the greatest challenges to growing and maintaining special needs ministry is an integrated part of the local church is the breakdown of communication between pastoral staff and special needs ministry leadership. We frequently hear reports that pastors and leadership spend more time at odds than working as a team. Senior Pastor Wayne Chasteen (Christ First Church, Ringgold, GA) and Lisa Mattheiss Special Needs Ministry Coordinator (Christ First Church, Ringgold, GA) walk through multiple communication strategies that have made their relationship work effectively. They will discuss ways they define their roles and expectations, ways they build relationships with each other and with the congregation, and ways they learn and grow individually as well as together as a team. Wayne and Lisa share real-life stories from their ministry together at Christ First Church over the last three years in a light-hearted presentation with serious practical application. While this was initially designed for pastoral leadership and special needs ministry leadership, the concepts presented are applicable to any pastoral/leadership relationship. (1 hour- 1 1/2 hours)
Parenting Intentionally for Independence
This particular workshop has been presented under multiple titles and can be geared for parents as well as educators, professionals, or church ministry leadership. (Alternate titles: Parenting Intentionally for Independence, Early Planning for Transition: One Family's Story, Adult Transition Planning in Kindergarten? One Family's Story)
Most medical and educational activities are considered one year at a time. An IEP meeting is held annually. Doctor's appointments are made in small increments: a week, a month, 3 months, 6 months, a year. It is easy for families and professionals to get in the habit of only thinking a year ahead, and yet decisions need to be made in a child's formative years to build the foundation for their transition to adult life. Parent Lisa Mattheiss tells the story of Emily, who was born with spina bifida, hydrocephalus and more than two dozen other diagnoses. She shares the very intentional choices that she and her husband Jeff made early in Emily's first several years of life as they prepared Emily for independently reaching her potential in every way: medically, educationally, financially, physically, emotionally, cognitively, and spiritually. Lisa speaks of long term planning in the areas of safety, environmental accessibility, communication, technology, time management, and their community involvement and shares their decisions as well as the thought processes behind the decisions. Now that Emily is 20 years old, Lisa also shares what they did well, and what they wish they would have done differently.
Parents leave with practical ideas they can utilize at any stage from early intervention through high school. Professionals, educators, and ministry leaders leave with an increased understanding of the many decisions faced by families in the course of raising a child with special needs and ideas for practically supporting parents through the journey. (1-1 1/2 hours)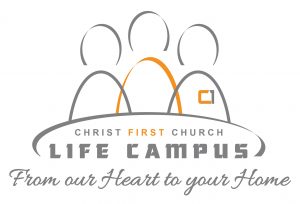 LifeCampus Ministry Overview
The purpose of LifeCampus ministry is to provide the body of Christ a worship opportunity in the home of those who are unable to make it to the church's main campus for health or caregiving reasons. The homes of individuals become an extended satellite campus of their church by intentional design. Piloted by Christ First Church in Ringgold, Georgia, this workshop covers the mission, purpose, and details of the program. LifeCampus Overview discusses the families served, the teams that serve, challenges and benefits, and multiple options for development of the program. (1 hour)
Life, Marriage & Asking for Help
It has been said that what doesn't break you makes you stronger. How can you keep your marriage and family from being broken apart by disability? We will discuss ways that churches can support families and marriages. Many times life is so overwhelming parents don't even know what to ask for or how to ask when their marriage and family is in trouble. This session will include a discussion of ways families can ask for help when they need it, for themselves, their marriages, and their families. Specifically applicable to: Caregivers, Parents, Special Needs Ministry (SNM) Personnel (1-1 1/2 hours)
God, WHY? Reframing the Concept of Suffering
How do you process the onset of disability or onset of a new diagnosis? Is it OK to lament a diagnosis? Can you lament a diagnosis without lamenting a child? How do you process feelings in light of what you know about the Bible? Dr. Cale Horne shares his own journey through reframing the concept of suffering in light of Scriptural theology of suffering. Specifically applicable to: parents, caregivers, chaplains, pastor staff, SNM leadership, anyone who is currently in the throes of suffering or who might walk alongside someone who is suffering (1 – 1 1/2 hours)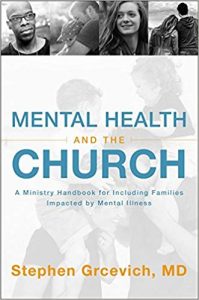 Mental Health & The Church – Overview of book by Steve Grcevich
Is your church a welcome place for everyone? Weekend worship services, Christian education, small group ministry, and service opportunities are activities critical to growing in faith in Christ. Yet the church struggles to include families of children, teens, and adults who have common mental health conditions. In Mental Health and the Church, Dr. Stephen Grcevich lays the groundwork for an inclusion ministry that is flexible enough to be used by churches of any size or denomination. He highlights 7 barriers that families encounter when they begin attending a local church and offers strategies for overcoming them. LifeLine staff presents an overview of the book Mental Health and the Church by Steve Grcevich to help churches lay the foundation for structuring ministry programs for those with often "invisible" disabilities. Specifically applicable to: Children's Ministry Leadership, Youth Ministry Leadership, Special Needs Ministry Leadership, Pastoral Staff, Mental Health Professionals (2 hours)
Basic Disability Etiquette & Caregiver Etiquette
Those new to ministry and interactions with those with special needs and their families often worry about what to say and do. "Will I hurt their feelings?" "What if I do something wrong?" PJ Crouch walks attendees through basic disability etiquette from his own experiences. This workshop will end with some ideas from Lisa Mattheiss for interactions with caregivers as well. Specifically applicable to: Special Needs Ministry Leadership, Children's Ministry Leadership, Youth Pastors, Pastoral Staff (1 – 1 1/2 hours)
DIAGNOSIS SPECIFIC L

EADERSHIP TRAINING
(AWANA Leadership Training can be easily customized to Sunday School or other children's ministry programs as well.)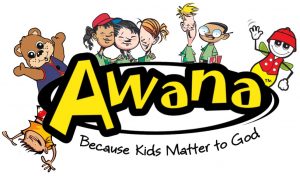 AWANA – ADD/ADHD
Is there a child (or children) in your Awana club that can't sit still? Can't participate or learn his handbook sessions? Does she even remember to bring her book? You may have a child with ADD/ADHD in your club. Do you know for sure the attention deficits exist, but don't know how best to help him learn? Are you an Awana leader who is struggling to keep your clubbers involved and making progress? This workshop discusses what ADHD is, the different ways it may manifest in your club and some common myths about ADHD. We will then talk through inclusion and support strategies for clubbers with ADD or ADHD in your AWANA Club. This workshop is geared for Awana Commanders, Directors, Leaders, Game Directors, LITs, and supporting staff. (1 1/2 hours)
AWANA – Autism Spectrum Disorders
This workshop will cover a description of Autism Spectrum Disorders comparing Diagnostic and Statistical Manuel of Mental Disorders 4 and 5 (DSM 4/5) as well as some of the challenges that frequently come with the diagnosis for children. (We will also discuss a brief description of sensory integration disorder, however, most sponsors request Sensory Integration Workshop to follow this workshop.) We will talk about educational strategies and accommodations and modifications that are frequently effective for children on the autism spectrum in Awana Clubs. This workshop is geared for Awana Commanders, Directors, Leaders, Game Directors, LITs, and supporting staff. (1-1 1/2 hours)

AWANA – What is Inclusion?
This portion of the workshop defines Inclusion vs. Segregation of clubbers with special needs and gives specific ideas on how to include those with various disabilities in each of the three different parts of the Awana Club: Handbook Time, Game Time, Council Time. (1 hour)
AWANA – Curriculum Modification for Clubbers with Special Needs
Here's your opportunity to learn how to adapt your ministry's current children's curriculum to accommodate those with special needs. This portion of the workshop takes existing curriculum and illustrates adaptation possibilities. It will give specific ideas on how to accommodate those with various disabilities in Council Time. Learn how to effectively teach, regardless of the level of ability with this multi-sensory approach to learning. (1 hour)
AWANA – Including Clubbers with Significant Disabilities
This workshop will cover a very brief description of several diagnoses and the significant challenges that frequently come with those diagnoses. We will also discuss ways to include clubbers with more significant disabilities in Awana Clubs. We will touch on ideas for managing behavior, communication, positioning and mobility, functional limitations, cognitive limitations, allergies, and self care. Leaders will leave with ideas for accommodations and modifications that are frequently effective for clubbers with significant and multiple physical and cognitive disabilities. (2 hours)

Epilepsy 101
Presented in conjunction with local Epilepsy Foundation representatives and family members, this workshop covers a brief summary of epilepsy and staff response in church environment. (1 hour)
Allergies 101
Presented in conjunction with a local allergy doctor's office representatives and family members, this workshop, this workshop covers a brief summary of types of allergies and staff response in church environment. (1 hour)
Behave Yourself! Understanding What Behavior Communicates
The Bible says "A good man out of the good treasure of his heart bringeth forth that which is good; and an evil man out of the evil treasure of his heart bringeth forth that which is evil: for of the abundance of the heart his mouth speaketh." (Luke 6: 45) Many church leaders of children and youth assume then that children whose behavior doesn't fit their picture of "Sunday School Charlie" must not be believers. However, research tells us that behaviors serve multiple other functions for children with special needs and may not necessarily be noncompliance. This workshop will explore sensory integration, emotional regulation, communication, trauma, post traumatic stress, adverse childhood experiences (ACEs) and other issues that may impact behavior in a church environment. (1-2 hours)
VBS (Vacation Bible School) Volunteer Training
This is an introductory presentation for church volunteers in preparation for including children with multiple types of disabilities into Vacation Bible School activities. (1 1/2 to 2 hours)
C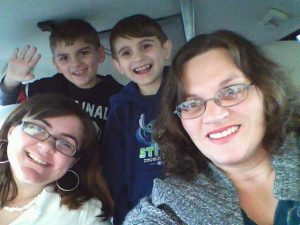 ommunicating the Gospel: Multiple Communication Options at Church
Communication is the basis of building relationships. What happens for a minimally verbal or nonverbal child? How do you share the Gospel with them or find out what they know about a relationship with Jesus Christ? Ezra and Kelly, a communication developer and a Speech and Language Pathologist will walk through multiple communication options including verbal, nonverbal, visual, augmentative communication, and assistive technology. Communication systems such as Pragmatic Organization Dynamic Display (PODD), Language Acquisition through Motor Planning (LAMP), and Picture Exchange Communication system (PECS) will be included in the overview of ways to use a child's mode of communication at church.
(2 hours)
Using Assistive Technology to make the Gospel Accessible
This workshop
TRAUMA BASED BEHAVIOR SERIES
In collaboration with a local trauma counseling specialist, these presentations can cover any or all of the following:
Why Do They Do That? Understanding the Impact of Early Childhood Trauma and Resulting Behaviors
When children and youth show up at church without a diagnosis or apparent disability, but with difficult behaviors, the first response is to assume that this is a bad case of the sin nature. However, oftentimes early childhood trauma, abuse, neglect, foster/adoption processes, and unaccommodated sensory challenges can impact a child's ability to cope in their environment. Matt will guide participants to understanding how early adverse childhood experiences can often show up as behavior that typical methods of discipline will only make worse. Attendees will leave with a better understanding to recognize and understand children's behaviors and with some strategies for responding. (1 1/2 – 2 hours)
Taking the Fear Out of Mental Health Diagnoses – Even in 2019, stigma around mental health challenges still occur, especially inside the church. Matt McUmber will debunk myths, and provide definitions and descriptions of some of the most common mental health diagnoses. He will talk through their primary symptoms and challenges in church environments and basic strategies for support by the church. (1 1/2 – 2 hours)
Foster/Adoption: When Love is NOT Enough – Sometimes churches have the notion that once a child is removed from an unstable environment and has been sent to a stable foster or adoptive home that eventually love will win and the child will be healed from the effects of their adverse childhood experiences. Almost anyone who has cared for someone who has come out of foster care/adoption scenarios will tell you sometimes love just isn't enough. Sometimes therapy, support groups, counseling, and medical treatment just aren't enough. Matt will explain the symptoms and impact of fetal alcohol syndrome, reactive attachment disorders, abuse and neglect on children and families and offer ways churches can support families who are fostering and/or who have adopted both domestically and internationally. His presentation will be supplemented with a family's story as Amanda Alexander shares her family's continuing story of adoption and searching for support and resources for Anna. (2-3 hours)
CHURCH WIDE AWARENESS AND/OR SPECIAL NEEDS MINISTRY TEAM BUILDING
Same Lake, Different Boat Bible Study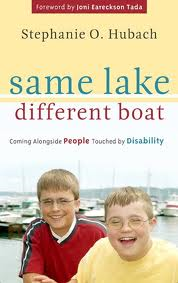 LifeLine staff will facilitate a 15 week Bible study through Stephanie Hubach's book, Same Lake, Different Boat,utilizing the DVD educational series and a workbook developed by LifeLine. When the church attempts to function without all of its parts, the body of Christ is disabled. Same Lake, Different Boat is a transformational work–designed to renew our minds to think biblically about disability in order that our lives, our relationships, and our congregations might wholly reflect Christ. This study will encourage and support family caregivers. It will cast a vision for church leadership to follow Christ's example of interaction with caregivers and those with disabilities. It will also build up and equip lay leaders within the church to more effectively inreach and outreach to those inside the church and within the community. As the various groups come together, conversations are facilitated that might never have started otherwise.
(15 week class at 2 hrs per week) See Host a Same Lake Different Boat Bible Study for more information.
Beyond Suffering Bible Study
Have you ever suffered physically, emotionally or spiritually and wondered why? Do you have family member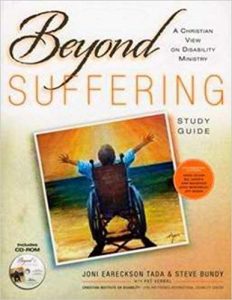 s or friends with disabilities and struggle to know what to say or how to act around them? People with disabilities are considered one of the world's largest under-represented groups. The church is largely unprepared for the burgeoning disabled population. One of the primary goals of the Beyond Suffering Course is to address this issue by preparing leaders in ministry, education, medicine and science to become involved in this life-changing ministry. Beyond Suffering is an 18 week intensive training course for those who want to take what they learned in Same Lake Different Boat to the next level, within the church and beyond to the community. From worldview to God's sovereignty, the theological basis for disability ministry is established. Major challenges to ministry, how to start a ministry, ministry across the lifespan, outreach, networking, and bioethics are all part of the discussions involved in this deep dive into ministry leadership development. (18 week class at 2 hrs per week with additional "homework" and readings between class sessions)
Additional Information:
Every workshop includes a packet of training materials for attendees to keep. Whether you are looking for a parent training, pastoral leadership or staff training opportunity, we likely have a workshop, Bible Study, or training materials that will be helpful. Custom workshops can be created as well to meet specific church training needs.
Workshops and Training Events are funded by fees for services and materials. Beginning October 1, 2012, there will be a charge for consultations, training and workshop materials. Support groups, organizations, non-profits, schools, churches, etc. may also choose to sponsor a training opportunity and offer it free of charge for families or staff. Please contact us for more information about training fees, mileage and travel rates, and to book training events.
Lisa Mattheiss, Executive Director
LifeLine, Inc.
1400 McCallie Avenue
Suite: 112
Chattanooga, TN 37404
Tel: 423-645-0504
lisa.mattheiss@lifelinefamilies.org