"Th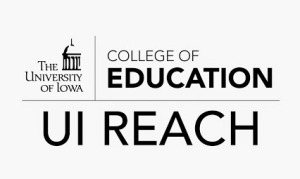 e University of Iowa REACH Program is a two-year, transition certificate program for students with multiple intellectual, cognitive, and learning disabilities. UI REACH provides a campus experience to empower young adults to become independent, engaged members of the community. Courses, campus life, and career preparation assist students in reaching their full potential. UI REACH strives to maintain periodic contact with alumni to encourage them to become independent adults by utilizing the independent living and career-related skills they learned in the program.
Key Features of UI REACH
Big Ten University experience
Integrated, on-campus residence hall living
Inclusive academic learning opportunities
Generous scholarship support
Quality College of Education instructors and advisors
Specialized core curriculum and service learning
Employment preparation and training
Community-based internships
Transition portfolio
Vision
Our vision is to empower young adults to become independent, self-determined individuals who contribute to the community and whose lives are personally rewarding.
Mission
Our mission is to provide an integrated Big 10 University experience which prepares young adults with intellectual and developmental disabilities to achieve greater independence through campus involvement, career development, collaborative research, coursework, and residence hall living.
Program Standards
Academics and Life-Long Learning: Demonstrates life-long learning skills, including practical academic skills
Career and Vocation: Demonstrates understanding of individual career exploration and vocational preparedness
Community and Leisure: Demonstrates preparedness for community life and leisure activities
Independent and Daily Life: Demonstrates competence in independent and daily life skills
Self-Advocacy and Self-Determination: Demonstrates the use of self-advocacy and self-determination skills
Social and Interpersonal: Engages appropriately in social and interpersonal interactions
We welcome your interest in the UI REACH program and encourage you to explore to learn more about our program, students, and faculty." (From the UI-Reach website)
If you would like additional information please feel free to contact their office at 319-384-2127.