When the church attempts to function without all of its parts, the body of Christ becomes disabled. Same Lake, Different Boat by Stephanie O. Hubach is a transformational work–designed to renew our minds to think biblically about disability in order that our lives, our relationships, and our congregations might wholly reflect Christ.
This study will encourage and support family caregivers.  It will cast a vision for church leadership to follow Christ's example of interaction with caregivers and those with disabilities.  It will also build up and equip lay leaders within the church to more effectively inreach and outreach to those inside the church and within the community.  As the various groups come together, conversations are facilitated that might never have started otherwise.
LifeLine has been facilitating Same Lake Different Boat special needs ministry Bible studies for about five years.  We have seen individual and church lives change as a result of this study.  While we encourage those interested in facilitating to join us for a study before they begin their own, it is not required.  If you are interested in facilitating this study within your local church, you may purchase the components of the study through LifeLine, Inc.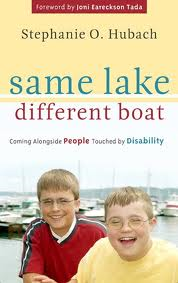 Same Lake Different Boat Book $12.00
Same Lake Different Boat Workbook $15.00
Same Lake Different Boat DVD Series $45.00
Same Lake Different Boat Audio Book $20.00
Same Lake Different Boat Bible Study Leaders Kit $100.00
(SLDB Bible Study Leaders Kit Includes: 1 SLDB Book, 1 SLDB Workbook, 1 SLDB DVD Series, 1 SLDB Leader Guide Answer Key, and 1 digital file with Course Syllabus template and flyer template.)
If you live outside the Chattanooga, Tennessee area, we will be happy to quote shipping prices for the products you need.  Contact Lisa.Mattheiss@ LifeLineFamilies.org.
apotekforman