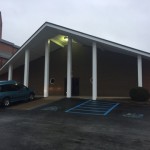 Hamilton County, Tennessee
LifeLine, Inc.'s main office is located inside Hixson First Baptist Church, 5800 Grubb Road, Hixson, Tennessee.  The church campus is large, but the building that houses our office is located right on the corner of Grubb and Lower Mill Road.
Walker County, Georgia
LifeLine's first Georgia office is located in the Walker County Advancing Education Center at 925 Osburn Road in Chickamauga, Georgia.  Our office is located with Walker County's Special Education Department.  Many of our Georgia meetings and training events take place in their Hard Work Cafe.
LifeLine's MAILING address continues to be
1400 McCallie Avenue, Suite 112
Chattanooga, TN 37404