Jeff and Lisa Mattheiss were married in 1994 and full of plans for their future. En septiembre 11, 1999, God brought Emily Christene Mattheiss into their lives. She was born with spina bifida, hidrocefalia, y casi treinta otros diagnósticos secundarios,,en,La familia Mattheiss se ha mantenido convencida de que,,en,la organización se mudó de Hamilton Baptist Church en octubre,,en,y abrió su propia oficina y espacio de entrenamiento en,,en,En esta nueva ubicación.,,en,Para más información sobre el Centro para la Esperanza.,,en,El alcance de Inc. en estas áreas y los espacios de oficinas que dieron a la organización acceso inicial para atender a las familias y escuelas en el noroeste de Georgia,,en,fue honrado por el Centro de Autismo de Chattanooga por su contribución al apoyo y desarrollo de los primeros programas del CAC,,en,fue nominado para el premio de la Cámara de Comercio de Chattanooga sin fines de lucro del año,,en,Fue un honor para LifeLine,,en,para convertirse en finalista en el Premio Sin Fines de Lucro del Año,,en,como destinatario del premio Pay it Forward,,en,una vez más en julio,,en.
Even after each diagnosis was given and 17 surgeries were undertaken, the Mattheiss family has remained convinced that, like the blind man in John, chapter 9, verse 3, La vida de Emily ha sido creado para que "las obras de Dios se manifiesten en él."
In September, 2002, after working at the Hamilton Baptist Church and befriending other special needs families, Jeff and Lisa prayed to God, "We feel that we are being called to minister to other families of those with special needs. How do we do that? ¿Por dónde empezar?"Su respuesta pareció ser" ¿Qué necesitan?" So they listened, to family after family, and they kept hearing the same thing – the need for respite care. Los cuidadores estaban pidiendo un descanso.
Así, without an official organization, o incluso un nombre, the Mattheiss family began a child care parent co-op with four other families in April 2003. Shortly thereafter, una versión ampliada de ese ministerio comenzó a tomar forma y el 7 de septiembre, 2003, el Ministerio de Hamilton Baptist Church LifeLine fue lanzado oficialmente.
The Mattheiss family called the ministry LifeLine because they wanted it to be exactly that…a LifeLine.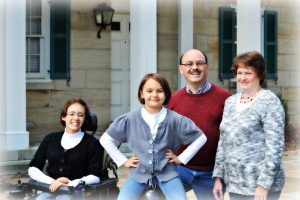 Cuando alguien se está ahogando, un salvavidas se extiende. The organization's hope has always been to extend a similar lifeline to families struggling to be caregivers. The life preservers and lifelines in their logo come together to form a flower, un símbolo de la vida próspera. El propósito de la cuerda de salvamento es ayudar a los cuidadores prosperan, no sólo sobrevivir. It is also the organization's hope to show forth Jesus, el único dador de la vida eterna.
En enero, 2007, LifeLine applied for and received their Tennessee Incorporation. Ellos se convirtieron oficialmente LifeLine, Inc. en Enero 27, 2007. The ministry then received its non-profit 501(c)(3) status in January 2009.
Taking a leap of faith, the organization moved from Hamilton Baptist Church in October 2009 and opened its own office and training space at 1609 McCallie Avenida, Chattanooga. At this new location, LifeLine, Inc. administered a Community Parent Resource Center Grant (CPRC) from October 2009 to September 2012, growing not only LifeLine, Inc.'s outreach into the community, pero su capacidad para servir a las familias.
Durante 2011, LifeLine, Inc. opened additional, temporary offices in Ft. Oglethorpe, GA y Summerville, GA en espacio de oficina donado por el Centro para la Esperanza, una agencia de consejería cristiana en el noroeste de Georgia (haga clic aquí for more information about the Center for Hope). Por 2013, both offices were closed, but LifeLine, Inc. continues to work with multiple families, iglesias, and school systems within the areas, holding trainings and events at local schools and churches. LifeLine, Inc. is blessed and grateful for those who invested in the development of LifeLine, Inc.'s outreach into these areas and the office spaces that gave the organization initial access to serve families and schools in northwest Georgia.
Una vez que la subvención CPRC terminó en 2012, LifeLine, Inc.'s main office moved to where the Chattanooga Autism Center (CAC) was opening their new office. Así comenzó lo que se ha convertido en una relación de valor incalculable. Although LifeLine, Inc. has since moved their office to the Hixson First Baptist church, it is grateful to continue collaborating with CAC as they serve many of the same families.
En abril 2012, LifeLine, Inc. was honored by Chattanooga Autism Center for its contribution to the support and development of the CAC's earliest programs. LifeLine, Inc. received their first annual Organizational Support of Autism Award.
En 2012, LifeLine, Inc. was nominated for the Chattanooga Chamber of Commerce Non-Profit of the Year award. It was an honor for LifeLine, Inc. to become a finalist in the Non-Profit of the Year Award, compitiendo contra varias organizaciones que habían existido mucho más tiempo.
LifeLine, Inc. was honored for its contributions to the region in April 2014 as a recipient of the Pay it Forward Award. LifeLine, Inc. received the award once again in July 2017.
Over the years, LifeLine, Inc. has changed its services. Respite care gave way to new programs like the ParentLink parent mentor program, Survival Kit Project, Recursos Chattanooga Area & Centro de Educación, Necesidades Especiales Programas de Capacitación del Ministerio, parent and professional trainings, support groups in Tennessee and Georgia, SNAP training for first responders, and an equipment exchange program.
LifeLine, Inc. now answers over 3000 llamadas telefónicas, mensajes de correo electrónico, textos, y mensajes de Facebook cada año. LifeLine, Inc. also trains about 500 padres, educadores, profesionales, y personal de la iglesia cada año.
The Board and staff of LifeLine, Inc. observe con asombro cómo Dios continúa transformando un programa de respiro muy pequeño en un ministerio grande y activo para necesidades especiales para toda la región,en.
Farmacia Forman,da