In 1994, Jeff and Lisa Mattheiss were married, full of plans for their future and children. On September 11, 1999, God brought Emily Christene Mattheiss into their family. She was born with spina bifida and hydrocephalus and almost twenty other secondary diagnoses.
Through each new diagnosis, through 16 surgeries, through everything, the Mattheiss family has been convinced that, like the blind man in John chapter 9 verse 3, Emily's life has been created so that "the works of God should be made manifest in Him."
God made their calling clear in September, 2002. After resigning from their other positions at Hamilton Baptist Church, Jeff and Lisa finally said "OK, God, we know now that we're supposed to minister to families of those with special needs…how do we do that? Where do we start?" His answer seemed to be "What do they need?" So they listened…to family after family after family…They kept hearing the same thing…the need for respite care.
Caregivers were asking for a break! So, without an organization as such, or even a name, the Mattheiss family began a child care parent co-op with four families in April, 2003. Shortly, thereafter, an expanded version of that ministry began to take shape and on September 7th, 2003, the LifeLine Ministry of Hamilton Baptist Church was officially launched.
The Mattheisses said "We called the ministry LifeLine because we wanted it to be exactly that…a LifeLine!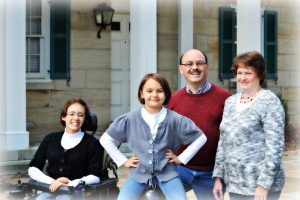 Our goal was to meet the unique needs of families of those with special needs. When someone is drowning, a life preserver is extended. Our hope is to extend a similar lifeline to families struggling to be caregivers. The life preservers and lifelines in our logo come together to form a flower, a symbol of thriving life. LifeLine's purpose is to help caregivers thrive, not just survive. It is also our hope to show forth Jesus, the only giver of eternal life."
Since their beginning, LifeLine has added several other programs to their ministry. ParentLink, the Survival Kit Project, Chattanooga Area Resource & Education Center, Special Needs Ministry Training Programs, and both Tennessee and Georgia Support Groups have all been added since 2003.
LifeLine was begun to support families who felt alone in their struggles. However, the ministry has grown far beyond those first four families and the church in which it began.. LifeLine's current enrollment of more than 1000 families primarily comes from the community.
In January, 2007, LifeLine applied for and received their Tennessee Incorporation paperwork. They officially became LifeLine, Inc. on January 27, 2007. The ministry filed paperwork and received its non-profit 501c3 status in January 2009.   In a leap of faith, the organization moved from Hamilton Baptist Church  during that time and opened its own office and training space at 1609 McCallie Avenue, Chattanooga, in October, 2009.  LifeLine administered a Community Parent Resource Center Grant from October 2009-September 2012, growing not only LifeLine's outreach into the community, but its capacity to serve families.
During 2011, LifeLine opened additional offices in Ft. Oglethorpe, GA and Summerville, GA in office space donated by Center for Hope, a Christian counseling agency in northwest Georgia.  (More information at www.centerforhope.org ) .  When CFH lost their funding in Summerville in 2012, that office was closed, but LifeLine continues to work with school systems and families in that area.  By 2013, LifeLine had established enough relationships within northwest Georgia that the Ft. Oglethorpe office was  officially closed, but LifeLine continues to work with multiple families, churches, and school systems within the area, holding trainings and events within local schools and churches instead of an office.    LifeLine is blessed and grateful for those who invested in the development of LifeLine's outreach into these areas and the office spaces that gave the organization initial access to serve families and schools in northwest Georgia.
Once the CPRC grant ended in 2012, LifeLine's main office moved once again, this time just down the street where the Chattanooga Autism Center was just opening its office.    It had long been LifeLine's board's dream to have multiple special needs service organizations under one roof.  Thus began what has become an invaluable relationship.  LifeLine is grateful for the collaboration of the CAC as we continue to serve many of the same families.  LifeLine continues to be a primarily volunteer driven organization, regularly serving a dozen metro Chattanooga counties.  LifeLine has also served families and churches in more than 20 states.
In April 2012, LifeLine was honored by the newly created Chattanooga Autism Center for its contribution to the support and development of the Autism Center's earliest programs. LifeLine received their first annual Organizational Support of Autism Award.
In 2012, LifeLine was also nominated for the Chattanooga Chamber of Commerce Non Profit of the Year award.  It was an honor for LifeLine to became a Finalist in the Non Profit of the Year Awards, competing against multiple organizations that had been in existence much longer.   https://www.chattanoogachamber.com/news-media/news/2012/3/chattanooga-chamber-announces
LifeLine was honored for its contributions to the region in April, 2014 as a recipient of the Pay It Forward award.  http://newschannel9.com/features/pay-it-forward/lisa-mattheiss—a-lifeline-to-local-families. LifeLine received the award again in July, 2017.  http://newschannel9.com/features/pay-it-forward/a-bridge-for-families-of-children-with-disabilities
LifeLine continues to answer over 3000 phone calls, emails, texts, and Facebook messages each year.  LifeLine trains about 500 parents, educators, professionals, and church staff each year.  The board and staff of LifeLine continues to watch in amazement as God makes what began with friends in the basement of a church an active ministry to an entire region.
Apotek Forman