Facilitated Vision Casting
This session facilitates church leadership and/or interested congregants through a process of determining their goal and purpose and developing a vision and timeline for implementing a special needs ministry.  A suggested training schedule generally emerges from that discussion as we document needs, resources, and goals.  Conversations will also determine how the church will make the logical progression of leadership development from theological base to practical application as part of a entire ministry development.  Integration of special needs ministry with all aspects of broader church ministries is crucial and we will take a look at how intentional integration and collaboration can occur and how implementation of special needs ministry development can grow and benefit the entire church.
(approximately 4 hours)
AWANA – ADD/ADHD
Attention Deficit Disorder – What is it?
Different Types of ADD/ADHD


Common Myths about ADD
ADD/ADHD in Awana Clubs — Increasing Participation with Inclusion Strategies
Is there a child (or children) in your Awana club that can't sit still? Can't participate or learn his handbook sessions? Does she even remember to bring her book? You may have a child with ADD/ADHD in your club. Do you know for sure the attention deficits exist, but don't know how best to help him learn? Are you an Awana leader who is struggling to keep your clubbers involved and making progress?  This workshop is geared for Awana Commanders, Directors, Leaders, Game Directors, LITs, and supporting staff.
(1 1/2 hours)
AWANA – Autism Spectrum Disorders
Description of Autism Spectrum Disorders
Myths About Autism
Sensory Integration Issues
Educational Strategies for Club Night
Accommodations
Modifications
Q&A and Resources
This workshop will cover a description of Autism Spectrum Disorders as well as some of the challenges that frequently come with the diagnosis for children. We will also discuss sensory integration disorder. We will talk about educational strategies and accommodations and modifications that are frequently effective for children on the autism spectrum in Awana Clubs. This workshop is geared for Awana Commanders, Directors, Leaders, Game Directors, LITs, and supporting staff.
(1-1 1/2 hours)
AWANA – Sensory Integration Disorders
How do students with SID struggle in an Awana club setting? What are some teaching strategies that help support a student with sensory integration disorders? We'll answer all of these questions as well as have an opportunity for questions and answers specific to successfully including kids with sensory struggles into Awana Clubs. This workshop is geared for Awana Commanders, Directors, Leaders, Game Directors, LITs, and supporting staff.
(1-1/2 hours)
Introduction to Special Needs Ministry
Attendees will understand what a ministry to those with special needs can look like and why ministry to this population is necessary, logical and Biblical. We'll take a look at how one church made it happen, and how you can too!
(1hour)
AWANA – What is Inclusion?
This portion of the workshop defines Inclusion vs. Segregation of clubbers with special needs and gives specific ideas on how to include those with various disabilities in each of the three different parts of the Awana Club: Handbook Time, Game Time, Council Time.
(1 hour)
AWANA – Curriculum Modification for Clubbers with Special Needs
Here's your opportunity to learn how to adapt your ministry's current children's curriculum to accommodate those with special needs.  This portion of the workshop takes existing curriculum and illustrates adaptation possibilities. It will give specific ideas on how to accommodate those with various disabilities in Council Time. Learn how to effectively teach, regardless of the level of ability with this multi-sensory approach to learning.
(1 hour)
Adult & Senior Ministry
This workshop will share practical ideas for supporting the adult and senior members of a congregation. It will also give ideas for opportunities for service.
(1 hour)
Walking Alongside Families with Special Needs – What the Gospels Tell the Church
This is an introductory presentation for church ministry leaders. Looking at the Gospels we can see the example of Christ's interactions with those with special needs. Based on his example, what does coming alongside a family with special needs looks like? 10 steps to successfully walking alongside families with special needs. (1 hour)
VBS (Vacation Bible School) Volunteer Training
This is an introductory presentation for church volunteers in preparation for including children with multiple types of disabilities into Vacation Bible School activities.   (1 1/2 to 2 hours)
Disability & Theology
How Does Having a Child with Special Needs Affect Your Faith?   "Why did this have to happen to me? My family? My child?"
The first thing that we are tempted to do when we hear a diagnosis is to wonder "Why did God allow this to happen to me?" We ask "Where is God in all of this?" and "How can anything good possibly come from disability?" Join us to work through a Biblical view of disability and lay the foundation for processing our emotions in a healthy, practical and Biblical way. Our discussion will be based on the first couple of chapters of Same Lake Different Boat as well as experience of a parent who has walked through this journey for almost two decades. While this will be geared for families, it will
also be helpful to church personnel serving families with special needs.
(2 hours)
Including Clubbers with Significant Disabilities
This workshop will cover a very brief description of several diagnoses and the significant challenges that frequently come with those diagnoses. We will also discuss ways to include clubbers with those more significant disabilities in Awana Clubs. We will touch on Ideas for behavior, communication, positioning and mobility, functional limitations, cognitive limitations, allergies, and self care. Leaders will leave with ideas for accommodations and modifications that are frequently effective for clubbers with significant and multiple physical and cognitive disabilities.
(2 hours)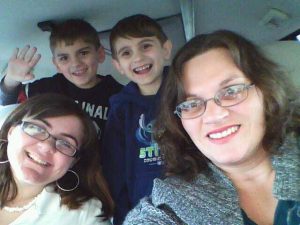 Same Lake, Different Boat
LifeLine staff will facilitate a 15 week Bible study through Stephanie Hubach's book, Same Lake, Different Boat,utilizing the DVD educational series and a workbook developed by LifeLine. When the church attempts to function without all of its parts, the body of Christ is disabled.  Same Lake, Different Boat is a transformational work–designed to renew our minds to think biblically about disability in order that our lives, our relationships, and our congregations might wholly reflect Christ. This study will encourage and support family caregivers. It will cast a vision for church leadership to follow Christ's example of interaction with caregivers and those with disabilities. It will also build up and equip lay leaders within the church to more effectively inreach and outreach to those inside the church and within the community. As the various groups come together, conversations are facilitated that might never have started otherwise.
(15 week class at 2-3 hrs per week)  See Host a Same Lake Different Boat Bible Study for more information.
Additional Information:
Every workshop includes a packet of training materials for attendees to keep. Whether you are looking for a parent training, educator/professional training, or staff training opportunity, we likely have a workshop that will be helpful. Custom workshops can be created as well.
Workshops and Training Events are funded by fees for services and materials. Beginning October 1, 2012, there will be a charge for training and workshop materials. Support groups, organizations, non-profits, schools, churches, etc. may also choose to sponsor a training opportunity and offer it free of charge for families or staff. Please contact us for more information about training fees, mileage and travel rates, and to book training events.
Lisa Mattheiss, Executive Director
LifeLine, Inc.
1400 McCallie Avenue
Suite: 112
Chattanooga, TN 37404
Tel: 423-645-0504
lisa.mattheiss@lifelinefamilies.org
apotekforman